How to make meetings/workshops more efficient?
Does this sound familiar: you have to prepare a meeting, or a workshop and it would just be nice to have a structure to follow to make the most of the time you've got and at the end everybody is happy with the results?
In this case I suggest to stick to a small process, and you will be surprised of the outcome.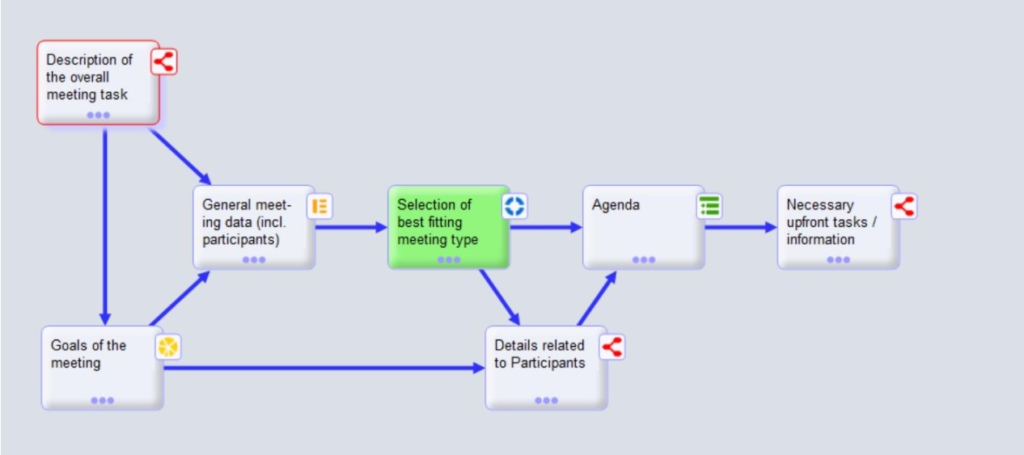 Description of the overall task
Please describe and argue why there is a need for a meeting/workshop.
This sounds simple, but honestly, how often do you spend the time on this part because you believe it is obvious?
Goals of the meeting/workshop
Please list the goals of the meeting/workshop. What should be achieved after the meeting? What are the results?
Most of the time meetings/workshops start without having thought about what you want to achieve. You will have far better results if you spend some time defining your (SMART) goals. They also help you facilitating the meeting/workshop.
General meeting data
Where does the meeting/workshop take place? Is everybody familiar with the location? When does the meeting/workshop start – did you have to take care about different time-zones? Do you need special equipment?
Sounds like a no-brainer? Let me tell you, that nothing is more embarrassing as standing in front of your audience and something goes wrong because you did not think of all the little details. Even worse – some of the participants are missing because they could not find the location …
Details related to the participants
You should explain why each participant is requested to participate in this meeting and describe the expected contribution of this participant.
Also think about participants you might need in this meeting even if they cannot contribute during the meeting/workshop but they can help you in a different way.
And yes, sometimes you might have to invite people even if they won't contribute at all but for certain reasons it is necessary to keep them in the loop.
Knowing your audience is also key for facilitation: it gives you guidance how to engage your participants.
Agenda
You think this is needless to say? Be honest: how often are you invited to a meeting and there is no agenda?
Not only as a courtesy, please provide an agenda. Otherwise, you waste your time and the time of the participants. If there is no agenda – there might be no necessity for a meeting at all.
An agenda is also helpful for time keeping purposes.
Necessary upfront tasks / information
Think about necessary upfront information and/or tasks. Provide information to the participants to get them engaged from the beginning.
Allocate tasks that can be done upfront by the participants: you distribute the workload and keep the participants interested.

Selection of best fitting meeting type
You missed this? Stay tuned, the secret will be disclosed in my next posting. You find this helpful? I'm curious for your feedback and thanks for reading.